Deciding where to go on your trip, from start to finish, isn't extremely important. What matters is that you go some place for which you have broad general interest, or which you think you might get interested in over time. Once that's settled, your itinerary planning should be finished. I'm serious. Shop around in your home country for a one way ticket, and go (see also 4. before you go).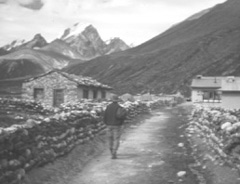 Itís a big world out there (Nepal).
It may sound like you're going unprepared by not having onward or return tickets, but the fact is that this is the best way to begin your individual adventure. It's easier and more fun to figure out where you're going once you arrive. If you've given yourself a lot of time off, then a couple days spent checking out your arrival city, talking with locals and other travelers and narrowing down where your interests lie will do you well. Wing it upon arrival. If you've planned out your trip to the extent that you can't go to X Beach (not in the guidebooks) when everybody says you should, then you've lost the freedom which this adventure should entail. Donít get caught up in logistics, because they will come when you want them to.
With no plans, you won't need to be running around like a chicken with its head cut off on your first day in country. You donít need to arrange for that bus ticket to Chiang Mai on Sunday, because you donít know where youíre going yet! One of the first differences you'll pick up on between this trip and your typical two-week holiday is that you'll need to slow down. Old-timers can spot an early bird traveler right off: heís hyper and scouting the guides for things to do. Patience is key. Take the time to look around and get to know a place well. Ostensibly, youíve gone there because youíre interested in it. Donít be the dork who claims Prague sucks because your three hour layover in the bus station revealed nothing more than golden arches and backpackers.
Starting off with a single one way ticket and no plans gives you the freedom to explore your interests as they develop. Let's say you fly into Bangkok. After checking out Thailand and Indochina, maybe you've heard through the traveler's grapevine that Burma is a cool place to go. If you had previously booked a round the world ticket with a next leg to Calcutta, let's say, then you're left with either scrapping Burma altogether or messing around trying to reroute your flights, something which will undoubtedly be costly and time consuming.
Moreover, tickets are generally quite cheap, with fixed regulated prices, in the country of flight origin. The nightmare of domestic US airfare pricing, varying from airline to airline, agent to agent and hour to hour, does not exist in Asia. One agent will give you the same fare as the next agent, regardless of the airline, because fares are characteristics of the route, not the whims of the industry.
Let's say you shopped around and found a great deal of $600 round trip from LA to Singapore. Nice, but this restricts you to returning home out of Singapore. Considering that sub-$300 one way fares are generally available from Bangkok, KL, Manila and Singapore back to the US at all times of year, at the worst you'd lose only marginally by simply purchasing a one way fare in the first place. This doesn't even take into account the financial and physical costs of returning to Singapore after you've done all you want to do, which could be a big headache if you've worked your way to China or Nepal. Keep life stress free, and figure it all out when the time comes.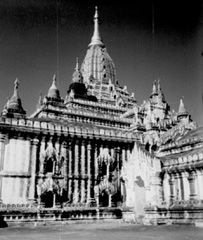 The Ananda Pahto (Bagan, Myanmar).