17. random cool stuff
To help stir your creative and observational potential, I'm enclosing some clippings from my journal. A lot of my observations were stream of consciousness, because I found I had too much on my mind at any particular moment to write out things in full sentences. I found lists to be a great way to spit things out as they came to mind. See if you can verify (or discredit) these lists. Think about how the ideas they express shed light on the difference between the third world and your home. Better yet, make your own lists. I'm just trying to toss ideas at you. Most of these lists are in no particular order, unless numbered otherwise.
MODERN GOODS WHICH POOR COUNTRIES LOVE:
flip flops
colored plastic bags
condensed milk
plastic drinking straws
mobile phones
karaoke
posters of luxurious homes
scented sniffers
Nescafe, Milo, Ovaltine, Horlicks
kerosene
FAMOUS AMERICANS:
Michael Jordan
Leonardo DiCaprio
Bill Clinton
Monica Lewinsky
:
shoe repair
shoe shine
face shave
full meals
moneychangers
cup of milk tea
watch repair
cheap local transport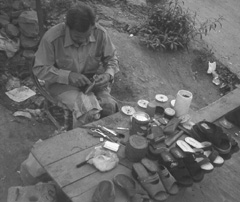 Quality service at good value, Laos.
QUALITY OF PUBLIC TRANSPORTATION, BASED ON COMFORT, FREQUENCY, EASE, ROADS, ETC.: (FROM WORST TO BEST)
Cambodia – back of pick-ups, no roof, no seats, no schedules, crowded, rough dirt roads, many 1-lane
Ghana – overpacked sardine cans (tro-tros), baggage is extra, few schedules, crowded, but has seats
Burma – pick-ups, buses, crowded, some seats, roof, schedules, passenger pick-up service, 1-lane roads
Laos – pick-ups, buses, crowded, some seats, roof, some schedules, some nice roads, some bad ones
Burkina Faso – larger sardine cans, buses, crowded, schedules abundant, decent two lane roads, train
Nepal – large Indian buses, crowded, schedules the norm, good roads, but slow
India – large rough buses, crowded, scheduled, extensive reserved train system
Cote d'Ivoire – large dirty buses, padded seats, scheduled, bus stations, fast, train is slow
Bangladesh – large clean buses, padded seats, scheduled, decent to excellent roads, reliable train
Thailand – large clean buses, extensive network, competition, scheduled, trains clean and on-time
USA – modern large clean buses with A/C, schedules, modern trains, but all service is infrequent and expensive, with poor geographical coverage
Malaysia – modern large clean buses with A/C, lots of competition, scheduled, fast modern trains
Mexico – modern large clean buses with A/C, videos, snack service, intense competition, frequent schedules, self-contained stations, modern trains and subway
The roads ain't too good in Cambodia...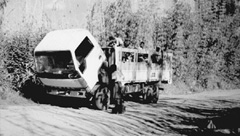 ... nor the "buses" in Burma...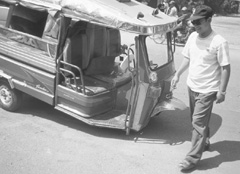 ... nor the "jumbos" in Laos.
WHY KHAO SAN ROAD (BANGKOK) GUEST HOUSES SUCK:
they charge for stored baggage
they don't let you use their telephone
they charge for a day-use safe keeping locker
they won't wake you up early to catch the train to Cambodia
A DAY IN THE LIFE OF A KHMER BUDDHIST MONK:
6:00am wake up
6:15am bathe
6:30am eat rice
morning sit around, chat and listen to music
11:00am eat rice
11:30am take a nap
1:00pm wake up
1:15pm bathe
afternoon sit around, chat and listen to music
6:00pm bathe
6:15pm study/teach
evening sit around, chat and listen to music
9:00pm go to bed
YOU'VE BEEN ON THE ROAD TOO LONG WHEN...
"football" means "soccer"
currency is the US dollar
a 12 hour, overnight, 3rd class train ride is no big deal
"food" is "rice"
it doesn't phase me that I don't speak a word of Thai except "farang"
Bangladeshis
Cambodians
Burmese
Ghanians
Thais
Mexicans
HOW CAMBODIANS STAY CLEAN AND PRETTY:
Bathe three times per day
Sweep house daily
Leave sandals at bottom of stairway, outside
Iron sarongs frequently
Pick lice out of each other's hair
AND ADDITIONAL THINGS BURMESE WOMEN DO:
Rub "thanaka" root paste on their skin
Carry parisols
Squat to prevent blood from pounding in foot veins
INTERNATIONAL HAND SIGNALS (NO SPEAKING NECESSARY):
bring your two index fingers together, lengthwise, at arm's length = sex (yes, there are others that will work)
pretend putting things into your mouth = eat
hold palm of hand onto lower abdomen, above groin = piss
tilt head sideways, palm of hand underneath = sleep
pretend dropping things on top of head, repeatedly = shower
pretend pulling down pants, make hand motion of stuff escaping rear = shit
index and middle fingers to lips, inhale = smoke
pretend holding a camera in front of eyes, push button or pretend looking through binoculars, as in one fist to each eye = take photo
AILMENTS COMMON IN THE THIRD WORLD:
one eye with no pigment in the pupil
eyes that look in different directions
part of upper lip is missing, showing teeth underneath
vomiting on public transport
Myanmar 25 kyat USD 0.07
Malaysia 50 sen USD 0.13
India 6 rupees USD 0.15
Czech Rep. 7 koruna USD 0.19
Nepal 15 rupees USD 0.23
Laos 1500 kip USD 0.232
Ghana 550 cedis USD 0.24
Bangladesh 12 taka USD 0.25
Singapore 50 cents USD 0.29
Thailand 12 baht USD 0.32
Brunei 60 sen USD 0.35
China 4.2 yuan USD 0.51
Cambodia 2000 riel USD 0.53
Ireland 45 pence USD 0.56
UK 37 pence USD 0.59
Spain 100 pesetas USD 0.59
Luxembourg 25 francs USD 0.59
France 4.50 francs USD 0.67
Portugal 140 escudos USD 0.69
Cote d'Ivoire 400 francs USD 0.73
Belgium 34 francs USD 0.81
Germany 2 marks USD 1.01
Burma 40 kyat USD 0.12
Laos 1300 kip USD 0.20
Bangladesh 10 taka USD 0.21
Thailand 8 baht USD 0.22
Nepal 15 rupees USD 0.23
India 10 rupees USD 0.24
Ghana 600 cedis USD 0.26
Cote d'Ivoire 150 francs USD 0.28
Malaysia (can) 1.5 ringgit USD 0.39
Mexico 4 pesos USD 0.43
Cambodia (can) 2000 riel USD 0.53
"PEOPLE'S DESIRE" -- GOVERNMENT PROPAGANDA BILLBOARD IN YANGON
Oppose those relying on external elements acting as strangers holding negative views.
Oppose those trying to jeopardize stability of the State and progress of the nation.
Oppose foreign nations interfering in internal affairs of the State.
Crush all internal and external destructive elements as the common enemy.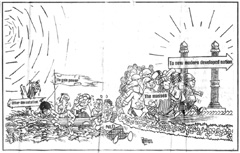 Typical political cartoon in Myanmar, emphasizing the inevitable downfall of the NLD (National League for Democracy) – The New Light of Myanmar (government propagandized English daily).
"The trafficking of illicit drugs in Malaysia is a serious offence and carries a mandatory death sentence." -- Malaysia Airlines Flight Crew, on arrival at KLIA
"One hundred and seventy-four members of Kungyangon Township NLD, Yangon Division, on their own volition, tendered their resignations by sending letters of resignation to Kungyangon Township Multiparty Democracy General Election Commission Office and the party concerned on 31 December as they no longer wished to participate in party politics of NLD." – From the daily "More NLD members resign" box in the New Light of Myanmar, 08 January 1999.
"Attention travelers: You are not required to give money to solicitors. This airport does not sponsor their activities." -- Recorded announcement in the international arrival hall, LAX